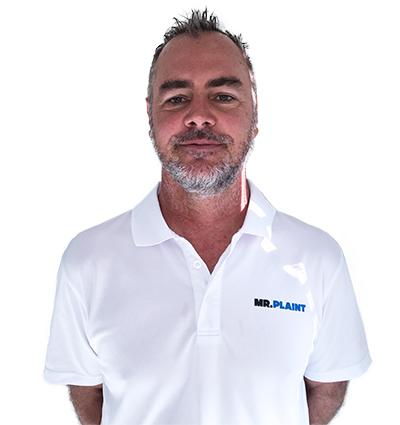 Founded by Jasson Mackay, Mr Plaint are plaster and paint professionals on the Gold Coast. Our primary focus is small residential, apartment and light commercial jobs. With over 20 years experience in the plastering industry we incorporated a painting division in 2017, which was an added bonus to our clients, as we specialise in small jobs, thus eliminating the need for 2 contractors.
Today we are proudly represented by experienced tradesmen who have worked extensively in the building industry as plasterers and painters. Our staff set high standards on all work undertaken. We believe all our staff conduct themselves with a high level of integrity and responsibility committed to delivering a premium service to all our clients.
Why Use Mr Plaint
Plasterers & Painters
Mr Plaint eliminates the need to source multiple tradesmen, ensuring you save by using one business to complete all plaster and paint. By painting our own work we take full responsibility for the final handover to the client. Our aim to be as efficient as we can, to deliver to you – the client, the best possible solution for your project.
We Use Tested Processes
We understand people have busy lives. So we work to your schedule. During the course of the project we will be there every day to ensure the job is completed on-time, leaving you stress free. We also ensure on leaving your home as clean and tidy as possible, completing daily site cleans and using all necessary precautions to eliminate dust and mess.
Established on the Gold Coast Since 2003
We have been working on the Gold Coast since 2003 and in this time established ongoing relationships with local businesses and homeowners. We have trusted partnerships with plaster and paint suppliers, also other industry specialists that we can recommend. During this time we have developed systems and techniques that ensure we finish your job in the most time efficient way delivering perfect services to complex repairs.